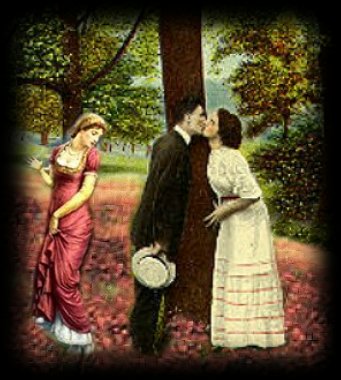 I wrote this poem to once again stress the importance of true love,
and that it comes from within; something called inner beauty.


I am a little flower; Poppy is my name.
I live in the meadow and sway in the rain.
I watch the gentlemen as they pass me by,
hoping one will pick me before I die.
I'm gentle, I'm kind, and loving too,
but they pass me by and walk right through;
into the rose garden where Scarlet stands,
with her long sexy body and outstretched hands.

To look at this rose you'd think she has it all,
she's clad in red and stands quite tall.
She's so alluring, her smell a delight,
the way she moves everything's just right.
But now I hear a moan, but more like in pain,
then comes a voice saying, "she's got to be insane."
She's killing me not fulfilling me, she's tearing me apart,
this beautiful rose is headed straight for my heart

In frustration and pain he heads back home,
crossing the meadow, feeling so alone.
When suddenly there appears a face so sweet,
that it almost knocks him off his feet.
She said, "hello sir, Poppy's my name.
I'm cute and I'm sweet, although a little plain."
I say what I mean and mean what I say.
Won't you take me home to stay?"

With that he reaches down and gently plucks her stem,
and pressing her to his heart, he takes her home with him.
So remember dear when you're down and out,
what life on earth is all about.
The rose on the outside stands beautiful and tall,
but inner beauty is the most beautiful of all.

Author: Agatha Weeks
Copyright © 2003

include("./php/share.html"); ?>




Copyright © Agatha Weeks. All rights reserved.
Please obtain permission from Agatha Weeks before using any poem.